The Best Field Hockey Sticks for Sale 2017
Comparison Table
| Name of Item | Price | Stick Size | Bow Design | Toe Design | Position | Material of the Stick | Stick Weight | Youth, Advance, Elite |
| --- | --- | --- | --- | --- | --- | --- | --- | --- |
| Grays Surf 500 | $ | 26" | 20mm | Maxi | Defensive players | Wood. 35% carbon, 15% Kevlar, 50% fiberglass. | 19-20 oz. | Youth |
| Dragonfly Mystique Sola | $ | 26-36" | 20mm | Maxi | Offensive Player. Perfect for beginners | Wood | | Youth |
| STX Surgeon 50 | $ | 26-32" | 19mm | Midi | very well-balanced. Perfect for beginners | 100% fiberglass  | 435 g | Youth |
| STX Hammer 700 | $$$ | 36.6" | 24 mm | Maxi | Defensive Players | 95% carbon, 5% aramid | 530 g | Advanced, Elite |
| Harrow Willow | $ | 34" | 22mm | Maxi | Offensive Player. Perfect for beginners | Fiberglass. Durable mulberry wood | 550 g | Youth |
| Grays GX 1000 Composite | $$ | 34-38" | 25mm | Maxi | Defensive players | 2o% carbon, 20% Kevlar, and 60% fiberglass | | Advanced |
| Adidas LX24 Compo 6 | $$ | 35" | 24mm | Hook | Defensive players | 100% fiberglass  | | Advanced |
| TK T5 Trillium Composite | $$ | 36.5" | 25mm | Maxi  | Defensive players | 20% carbon, 70% fiberglass, and 10% aramid | 550 gg | Advanced |
| Grays GX 7000 | $$$ | 35-38" | 20 mm | Maxi  | Defensive players | carbon, aramid, and fiberglass | 540 – 565 gg | Elite |
| STX Surgeon 300 | $$$ | 36.5" | 19mm | Midi | very well-balanced. Perfect for beginners | 30% Carbon, 65% Fiberglass, 5% Aramid | 535 g | Elite |
| TK Synergy S4 | $$$ | 35.5-37.5" | 25mm | Midi | Offensive Player | 50% Carbon, 40% Fiberglass, 10% Aramid | 550 g | Elite |
| Grays Nano 7 | $$$ | 37" | 22 mm | Midi | Offensive Player. Perfect for beginners | 25% carbon, 65% fiberglass and 10% aramid | 540 – 565 g | Elite |
| Grays GX 4000 | $$$ | 37-40" | 20 mm | Maxi | Defensive players | 70% Fiberglass, 15% Carbon, 15% Aramid | 610 g | Elite |
| CranBarry Eagle | $ | 34"-37" | Standard | Midi | Offensive Forwards | Fiberglass wrap with araldite reinforced toe | 226 g | Youth |
| Harrow Revel | $$ | 35" | 21 mm | Midi | Offensive Forwards | 50% carbon, 45% fiberglass, 5% Kevlar | 550 g | Advanced |
| Grays GX 2000  | $$ | 36" | Standard | Maxi | Defensive Players (indoor) | Carbon, Aramid, Fiberglass | 510 g | Advanced, Elite |
| STX Stallion 600  | $$$ | 36.5" | 24 mm | Maxix | Midfielders, Defensive | 95% carbon, 5% aramid | 560 g | Advanced, Elite |
| Grays 18 Mini Set | $ | 18" | | | Fun Gift | | | |
Buying the best sticks for sale can be tough. You have tons of brands like Dita, Grays, Harrow, TK, Voodoo, Brine, STX….and the list goes on and on!
Listen Up:
Field Hockey Review is here to make your next purchase easier by answering all of your questions and giving you a list of the best sticks for sale today!
There are many factors you have to consider when making this purchase; What is the official size? Do guys and girls use different gear? or do you need indoor sticks? What are the best brands, or do I need a bag for my gear? All of these questions and more are answered in this buying guide. Make sure to check out all of our other guides for a specific gears! Also if you need to check out what some the pro players use, you can check out profiles of the US team and at FIH!
 Everyone has a different preference for their best stick!
The Main Parts of Your Curved Piece!
Grip – This is the top part of your stick. Comes with a grip or grip tape to easily swing and handle.
Handle – This is where your control hand goes.
Head – Bottom of the gear, the part that actually touches the ground while you control the ball. Flat on one side, and rounded on the other for passing, shooting and stopping ball.
Heel – Where the head at the bottom bends to meet the toe.
Toe – Where the head curves up and ends. Skill and position of play dictate the curvature and shape of the toe.
Scoop – The small 2mm groove on the head of the stick which helps maneuvering, cradling, and ball control.
Bow – The bow is a slight bend in your field hockey handle, from the cradle to the head.
Stick Sizing Chart
Starting off with the most common question: What size is a field hockey stick? Reference the picture on the right to decide. Typically, you want a stick 1-2 inches below your waist line. Also, there are no left handed specific gear, as you can play with either side of the face.
The position you pay will dictate the length you need. A good rule of thumb is offense (forwards and midfielders) want shorter handles, whereas defense (fullbacks and sweepers) want longer handles.
Note for beginners: Get a youth stick that's shorter and lighter to improve your stick handling skills as you learn!
The Bow of Your Stick
Having a bow means it slightly bends or curves in your handle, usually 20mm-25mm. You can choose between a regular, control, or late bow. The amount of bowwill change elements of your game like ball handling, shooting, and passing.
The Best Toe Design for You
The toe determines a lot of factors like maneuverability and agility. The smaller toe you have, the quicker and lighter you'll be, but will lessen your striking surface. Having a larger toe will give you more striking surface for shooting, while reducing maneuverability.
Shorti – Offensive players use this for balance, quickness, and control.
Midi – Most common toe shape, very well-balanced. Perfect for beginners.
Maxi – Defensive players prefer this for wide striking and solid power
Hook – A two piece field hockey head improves ball control and reverse stick play
Materials Used
In the beginnings of this sport, you used to played with wooden logs carved into the desired shapes. As the game as evolved, so have the materials used to create the most important item in the game. The most common now-a-days are composite materials which are usually made of carbon fiber, fiberglass, and aramid and other materials. A good rule of thumb is carbon are a bit heavier and expensive, made for advanced and elite players. Whereas fiberglass based gears are lighter and cheaper, great for beginners and youth players.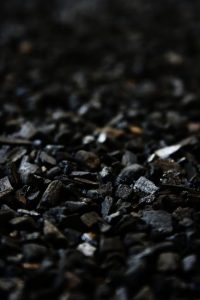 Original form of carbon used for making sticks!
The Weight Matters
You'll find that today we have some of the lightest gear out there. But the position you play dictates the weight you want. Look at your manufacturers specs to check the weight down to the grams!
Fowards – Light around 19 – 20 ounces (540 – 565 grams)
Midfielders – Moderate around 21 ounces (595 grams)
Backs & Defense – Heavier around 22 – 24 ounces (620 – 680 grams)
 Make sure you know the weight of your stick!
Need other gear? See also: Shin Guards, Gloves, Goggles, Bags, Goalie Equipment, and Shoes!
The Complete List of the Best Sticks for Each Level!
We've done all of the hard work for you and reviewed the best pieces available on Amazon. For those on a budget and new to the game, you'll want to buy from the youth level section. For some of the advance level and for high school and college players, we recommend the advanced or elite sections to determine the best stick for you. If you don't know which characteristics define each level of a stick then take a look for at our guides for the sticks at the beginner, intermediate, and expert levels!
This List is Broken Down Into:
Youth Level
Advanced Level
Elite Level
Best Youth Level Sticks for Sale
Price: $20-40
Ages: 3-10
Material: Wood
These junior pieces are perfect for beginners and/or intermediate players. We love these because they aren't super expensive, and are made of wood to allow growing ball control and handling skills.
1. Grays Surf 500
As a beginner, the Surf 5oo is one of the best Grays gear out there. Constructed of wood, this outdoor or indoor piece has great ball handling and passing designs. This Grays stick comes out of the box ready to play, and you'll find it's very lightweight and super thin for easy ball control. It weighs in at 19-20 oz. Material makeup is 35% carbon, 15% Kevlar, 50% fiberglass.
2. Dragonfly Mystique Sola 
If you're new to the sport, then look no further than this youth gear by Dragonfly. The core  is made of wood to allow a soft touch for developing skills. Comes with a full paint finish and cool graphics that young girls will love. As a this one is geared more towards girls, this has perfect balance and feel as you develop your ball handling and passing skills.
Dita FX R10 Junior Hockey
Buy it from Amazon on Sale
For you junior players, this is one of the best Dita piece for sale today. Perfect for beginning players who need a forgiving stick as they develop their skills. This is the best Dita mold for kids, giving it excellent flex, allowing optimal passing and receiving feel. The core is comprised of fiberglass, EpoxyHead. The shape is Maxi, the bow is 19mm, with a high position.
3. STX Surgeon 50 
Looking at STX options, the Surgeon 50 is the reliable for beginners. As a youth stick, it can also be used at the middle school play. Right off the bat, you'll love the well balanced feel, that is weighted perfectly for passing and defending. Comes fully assembled with an extended concept sport field hockey stick grip. Not recommend for players in high school or college level.
4. Harrow Willow 
We love Harrow's gear. Every year, they seem to design some of the best gear for sale. The Willow is definitely one of the best Harrow starter pieces kids. Right away, you'll notice its constructed with durable mulberry wood, making it super flexible and highly responsive on the field. Also, the fiberglass reinforcements give youth field hockey players with proper power without giving up the forgiveness needed. Bow is 22mm standard, weighs in at 550 grams.
Buy the Harrow Willow from Amazon!
Best Advanced Level Sticks for Sale
Price: $50-150
Ages: 10-16
Material: Composites of Carbon, Fiberglass, Aramid, Kevlar
After you've developed your dribbling and shooting skills for a couple of years, it's time to buy a more advanced gear!
5. Grays GX1000 Composite
We love some of Grays pieces. They make the best composite gear for youth, advanced, and elite players. The GX1000 is perfect for middle school and high school players who want a super stiff flex. The high performance design gives you a perfect balance and feel. As a composite material base, you'll find 2o% carbon, 20% Kevlar, and 60% fiberglass. This combination gives your Grays gear great power, yet lightweight and durable.
6. Adidas LX24 Compo 6

Adidas is a known name brand are now have some of the best gear in the game. Right off the bat you'll notice the Compo 6 rocks the classic, all rounded stick shape. The weight and feel is perfectly balanced, with a tight hook for advanced control on your reverse stick handling. A scaled down version of the LX24 Range, it's made with less carbon and more fiberglass. In fact, its a 100% fiberglass material build with a 24mm gradual bow.
7. TK T5 Trillium Composite 
Players around the world love the TK T5 Trillium and for good reason! The composition of 20% carbon, 70% fiberglass, and 10% aramid gives you a perfectly balanced feel when on the field. Coming stock with a late bow of 25mm, it's designed for intermediate to advanced players. The targeted weight for this bad boy is 550 grams, making the strength to weight ratio unbeatable!
Best Elite Level Sticks for Sale
Price: $150-300
Ages: 14+
Material: Composites of Carbon, Fiberglass, Aramid, Kevlar
Now these elite pieces come with a price tag. If you play college or high school level and need the best gear out there, then this is the place to look! When buying an elite piece as a player, you want to focus on your bow, the shape of the toe, and the weight ratio.
8. Grays GX7000
Of all the grays elite pieces out there, the GX7000 is the best one for elite players. The unique composite blend of carbon, aramid, and fiberglass will give you excellent power without sacrificing lightweight feel. The fiberglass in this GX7000 creates awesome control and touch when making passes or taking shots. Scoop this up from Amazon for a great price!
9. STX Surgeon 300 

Of all the STX elite gear, the Surgeon 300 is perfect as a for the forward position player. Specially designed to give a forward maximum control, while being both lightweight and easy to maneuver. This STX design provides a slim textured maxi toe, Karakal sport grip, and integrated ball channel. The composition of the STX Surgeon 300 is 95% carbon and 5% aramid. As an elite level piece, they don't get better than this!
10. TK Synergy 4
Another brand we love are TK field hockey sticks. The Nano tube technology used on this TK field hockey stick gives you higher potential output on passes and shots, yet still remains lightweight. You'll find this stick lighter than most composite comparables, but thats just a stiff. The TK Synergy is comprised of 30% carbon, 60% Fiberglass, and 10% Aramid. The Bow is late at 22mm and the weight is 550 grams. It's also a best selling on Amazon!
11. Grays Nano 7

When looking at Grays elite arsenal, very few beat the Grays Nano 7. Specifically designed for elite players, this Grays piece is both lightweight and durable. Although the Grays Nano 7 is best known for its control, this is a composite combination comprised of 25% carbon, 65% fiberglass and 10% aramid. The toe is Midi, with a medium bow of 22 mm, and weighs in at 20 ounces. We are HUGE fans of this Grays Piece!
12. Grays GX 4000
Of all the Gray's pieces out there, we love the Grays GX 4000  for many reasons. First off, the specially curved blade will help you make more saves because of it's larger surface area. Composed of fiberglass, you'll notice added strength and durability on those hard shots. The aramid in this field hockey goalie stick will also add to the strength and will dampen the vibration created from making saves!
Best Sticks for Sale By Position
Up and coming Forwards
The Cranbarry Eagle is a very affordable piece with a full fiberglass wrap resulting in very low vibrations. It's a well-balanced and very light, making it ideal for forward players with little experience. The midi toe is reinforced with araldite for durability and is well designed for handling the ball in close quarters. It has a good, ridged grip that helps with left-hand gripping and it's design allows for comfortable right-hand sliding. It comes in a fun polka dot design. The Cranbarry Eagle is a great hitter for new hockey players in offense positions.
The Harrow Revel is a perfect piece for forward players transitioning to more advanced levels. It has a 21 mm standard bow and a midi toe for ultimate control. It's a composite build consisting of 50% carbon, 45% fiberglass and 5% Kevlar. It's a lightweight piece at 550 grams which makes it a great stick for forwards who need to a weapon that won't weight them down and that they can maneuver easily while on the run.
Experienced Defensive Players
The STX Hammer 700 is a magnificent stick for defensive players. It has a mega bow and a Karakal grip as well as a maxi toe that is excellent for wide striking. It consists of 95% carbon and 5% aramid, providing solid power. The design of this hitting piece will elevate the strength of your strikes and will deliver maximum impact.

16. Grays GX 2000
Buy the Grays GX 2000 at Amazon
The Grays GX 2000 is an excellent  piece for indoor defensive players. It has a maxi head for solid striking power. Its carbon, aramid and fiberglass composition is fully integrated providing more power and durability. It's extremely solid due to its twin core construction, making for very powerful striking. With the combination of solid power from the carbon and the lightness of fiberglass, this stick is easy to handle with good shock absorption – perfect for a more experienced indoor defensive player than can handle a powerful stick.
Elite Midfielders
Check out the STX Stallion 600 at Amazon!
The STX Stallion 600 is a great stick for elite midfielders. It weighs in at 570 grams and has a maxi toe with a balanced bow. It's a very versatile stick that is built for power, but also has great balance. Its unique thin toe design makes for easy and quick movements that are a great advantage for midfielders. It's made out of 95% carbon and 5% aramid, making it a bit heavy for less experienced players, but a perfect companion to elite midfielders.
Grays 18 Mini Set

If you need to buy a mini sets for your toddler, or just as a fun gift then we have the perfect thing for you! These come in at 18 inches long, making them perfect for 2-3 year old kids just starting out for fun, or to give a high school player as a fun gift. Coaches even love them! You can buy them in a variety of colors and are great to just mess around with in the backyard or on the sideline!
STX Prime Field Hockey Bag
Buy the STX Prime Bag on Amazon
As far as bags go, this STX one is perfect for any player. We love this low price, and all of the features it comes with. At around $25, you get an awesome tube shaped bag to easily carry multiple sticks, your field hockey cleats or shoes, and other gear. The center positioned strap fits around your shoulder perfectly to carry from practice and games. An added side mesh pocket lets you put all your other gear in a safe, yet accessible spot! Basically a custom  bag, with tons of color options!
Wrapping up on Outdoor and Indoor Field Hockey Sticks
Make sure you decide on the toe, bow, weight, length you want out of your new indoor or outdoor field hockey stics. It's mostly personal preference, but highly consider what features you'll need out of your new piece as it will seriously determine the development and performance of your gameplay. Some other brands we haven't mentioned much, and you want to research include:
http://www.fieldhockeyreview.com/best-sticks-for-sale-guide
The Best Sticks for Sale 2017
http://www.fieldhockeyreview.com/wp-content/uploads/2015/05/Best-Field-Hockey-Sticks-for-Sale-Guide-2015.jpg
http://www.fieldhockeyreview.com/wp-content/uploads/2015/05/Best-Field-Hockey-Sticks-for-Sale-Guide-2015-150x150.jpg
Sticks
Comparison Table Buying the best sticks for sale can be tough. You have tons of brands like Dita, Grays, Harrow, TK, Voodoo, Brine, STX....and the list goes on and on! Listen Up: Field Hockey Review is here to make your next purchase easier by answering all of your questions and giving you a list of the...
Field Hockey
Field Hockey
andywu217@gmail.com
Administrator
Field Hockey Reviews