I hope you love our product recommendations! Just so you know, fieldhockeyreview may collect compensation and commission from the links on this page! If there is anything we can improve, please let us know!
Last Updated on March 27, 2022 by Field Hockey
Comparison Table
| Name of Item | Materials | Best For | Additional Features | Price |
| --- | --- | --- | --- | --- |
| ASICS Gel-Lethal MP7 | Synthetic leather and mesh, Trusstic System, Multi-Studded Molded Rubber OutsoleRearfoot GEL Cushioning System | Indoor, Turf | Full-length C.M.E.V.A Midsole, Raised Gradient HeelRemovable insole | $$ |
| Womens Asics Turf Neo-Gel | Trusstic System, PGuard toe protection, Cleated rubber outsole, Dupmax Support System. | Indoor, Turf | Reduced shock and improve speed and agility form the GEL in the heel | $ |
| Womens Adidas Divox 1.9S | Lightweight Trusstic System, Full-length GEL cushioning, PGuard toe protection, SpEVA midsoles, | Indoor, Turf, Hard ground | Cleated field hockey shoe featuring patterned synthetic overlays with color pop  | $$ |
| Adidas Adistar S.3 Hockey Shoes | Adidas adiPrene cushion system, Nylon, Pro-Moderator + Lightweight, durable midsole | Outdoor, Turf, Wet Field | Mesh forefoot and synthetic sidewalls for breathability and lateral protection. | $ |
| Adidas Performance Women's F5 TRX FG W Soccer Shoe | TRAXION FG outsole, Synthetic leather upper, Die-cut ethylene vinyl acetate insole | Indoor, Turf, Surfaces, Pitches, Fields | lightweight, semi-glossy mesh upper and a traxion outsole for quick manueuvres in all directions | $$ |
| Womens Under Armour Finisher Lacrosse Footwear | Synthetic Leather, Molded Rubber | Outdoor, Turf | lightweight | $$ |
| Adidas Junior Cleats for Kids Messi | Bravo Synthetic Leather/Textile, Soft textile lining, Die-cut ethylene vinyl acetate sockliner | Indoor, Outdoor, Kids | New speed traxion outsole with high speed stud alignment for maximum acceleration and quicker turns | $ |
Quite possibly the most important piece of equipment below your waist is going to be your turf footwear or cleats. Some would argue it's your shin guards, but we'll leave that debate for another time!
Here's the thing:
If you pick the wrong footwear then you're left with blisters, soreness, cramping and not to mention a waste of money. Nail this purchase and you'll be running freely and maximizing your dexterity to the max to improve your gameplay.
Whether you are looking for men or women's footwear, we've got you covered. Below we help guide you through buying the best foot wear for sale in 2018 by reviewing and showing you the cheapest place to buy them!
When to Use Field Hockey Turf Shoes Vs Cleats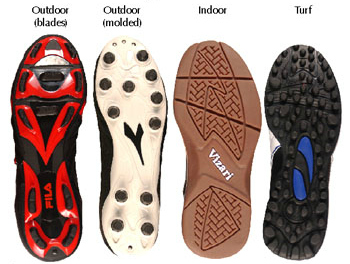 Many new players want to know the difference between turf shoes and cleats. In general, you will be wearing this footwear when playing indoors or on turf. Turf pieces don't use metal spikes, but rather a rubber grip to keep you balanced on the field or astroturf.
Cleats tend to be reserved for playing on grass or outdoor games. These cleats come with metal or plastic spikes that dig into the grass or dirt, keeping you upright while making sharp dodges.
Can I Use Soccer or Lacrosse Cleats?
In actuality, you can use lacrosse or soccer cleats/shoes during play. If you happen to play one of those sports as well or just prefer soccer footwear, then by all means, use whatever you like! It's very common to see players using soccer or lacrosse turf shoes when on the grass or turf. Just know that top brands like Asics, Nike, Adidas, and Dita make specific field hockey shoes and cleats.
The Final Call:
Safety is the most important thing here. Newer field hockey turf shoes and cleats have a thicker and harder top to keep your foot safe from field hockey sticks. Sadly, with soccer cleats, they are softer on top and not as protective. If you can afford to buy them, go with some turf shoes made specifically for field hockey!
The Best Outdoor & Indoor Field Hockey Turf Shoes and Cleats
We've searched near and far to find the best field hockey cleats in 2018 for you. Take a look at these newly improved shoes from brands like Asics, Adidas, Nike, Dita and Under Armour. When buying outdoor or indoor protective footwear, ask your coach or teammates if the colors need to match your socks or uniforms. You want to make sure there is no confusion on your team and that your clothing and apparel matches all around!
Prices: $$
Bottom: Molded Plastic Cleat
Colors: All Colors
1. Womens MP7 ASICS for Turf
Buy ASICS MP7 Field Hockey Shoes on Amazon!
Asics are the most popular footwear and are definitely some of the best ones you can buy today. The Gel-Lethal MP7 is a very durable and protective pair. These Asics pairs are made with the strongest and best materials out there. The mid-sole is designed with a balanced mid-foot Trusstic System to give you support and comfort during games and practice on the indoor or turf areas. The dual action synthetic leather and mesh gives you ladies superior support and the rubber sole will last years. Scoop these up from Amazon and lace-up!
2. Womens Asics Turf Neo-Gel  
Get The Asics Neo-Gel Today on Amazon!
All ladies and their moms love these pairs of Asics Gel Neo. First of all, the perfectly cushioned feel is optimal for an indoor turf playing field. Ideally, you'll want to use these turf footwear on the hard ground, turf, or wet surfaces. These semi-cleats come with Asics' lace-up upper to give you an ideal fit, while the PGuard toe protection gives you better durability. You'll love the reduced shock and improve speed and agility form the GEL in the heel. This pair also comes finished with a cleated rubber outsole.
3. Womens Adidas Divox 1.9S
Buy Adidas Divox 1.9S on Amazon!
Another set of totally good and durable footwear, the Divox 1.9S  are excellent for turf, hard ground, or as indoor playing boots. This pair comes designed with a raised heel and added mesh and durable upper sole to keep your foot comfortable and protected. The GEL in the heel of the foot gives you cushioned control when running and cutting. The PGuard gives you that extra toe protection needed from the rough cutting motion of our sport. A definitely favorite for all times, you'll love these Asics protective footwear!
4. Mens Adidas Adistar S3
These red/black Adistar S3 are definitely one the best Adidas branded footwear out there. Stemming from the original S2 design, these are now more durable, breathable, and lightweight. As protective footwear for men, the mesh on the front of the foot reduces the weight while also enhancing overall breath-ability. Coming with Adidas adiPrene cushion system, the comfort is impeccable the second you slip your feet in. If you are playing on a wet field hockey pitch, these give you the best side cut grip and deceleration. You can't go wrong with the Adidas Adistar!
5. Adidas Performance Women's F5 TRX FG W Soccer Shoe
Buy The Adidas F5 Soccer Shoe on Amazon!
If for some reason your prefer to use a soccer turf footwear as your set of indoor playing hear, we recommend the Adidas F5 TRX soccer cleats. Get the flexibility and agility you need out of these turf gear that the sport demands. This pair comes with Speedfoil in the heel area for comfort and is great for all surfaces, pitches, and fields. All in all, these soccer shoes are very similar to turf shoes, except they aren't as protective on the upper foot.
6. Womens Under Armour Finisher Lacrosse Footwear
Buy The Finisher Turf Lacrosse Shoes at Amazon!
Since lacrosse cleats have very similar qualities to what we need, they should work just as fine! As far as value-driven protective footwear goes, this Under Armour pair is an excellent option. At its price point, you get a durable, lightweight, protective cleat that you can while playing the sport indoors. With a molded plastic sheet underneath, these are also great for outdoor play as well. Either way, great option, great review. We love this pair of Under Armour Finisher Lacrosse footwear!
7. Adidas Junior Cleats for Kids Messi 
Good footwear comes at every level of play. Junior size footwear for kids are essential as a beginner or youth level player. Getting proper cleats for your kids will help them make cuts and keep their balance while playing. The durable leather synthetic upper part of the soccer shoes have an awesome city graphic of Lionel Messi's upbringing. The outsole is made of strong rubber to improve grip and dodging. As far as turf shoes for the sport go, these are excellent options for kids!
Our Favorite Socks To Buy With Your Socks
Adidas Utility All Sport Socks
Buy the Adidas Utility All Sport Socks!
With any good pair of protective footwear, you need a good pair of socks as well. We highly recommend this Adidas pair as it provides a great fit and breathability for your feet. The mesh pattern also provides slight grip into your protective footwear! The socks are lightweight and thin so that there is no impact to you wearing your footwear or shin guards! Make sure you have a good pair of socks to complement your shoes!

STX Shin Guard Socks
In official season games you wear socks over your shin guards. Rocking shin guard socks keeps your shin guards in place while moving around. These STX field hockey socks are made of a super lightweight and breathable material. Available in team colors (red, blue, pink, yellow, black ,white, orange, green) and multiple sizes!  This pair will help match your protective footwear on the outside of your shin!