Best Field Hockey Shin Guards Buying & Sizing Guide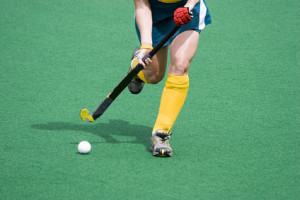 Comparison of the Best Field Hockey Shin Guards
| Shin Guard | Protection | Foam Pad Size | Best For | Additional Features | Price |
| --- | --- | --- | --- | --- | --- |
| CranBarry Shinguard Adults | Full Shin and Ankle | 8" | Adult, Recreational | Protective ankle cups, Can be worn in place of game socks, Padding cushions the front of the ankle. | $$ |
| Adidas Shin Protectors | Full Shin | M | Center, Defensemen, Wings | Interior lining removable and washable, TPU shield for maximum protection  | $$ |
| Harrow Protect | Full Shin | S, M, L | Goalie, Junior, Youth | Can be worn without socks. Foam field hockey shin guards | $$ |
| Grays G800 | Full Shin and Ankle | S-10.5", M-11", L-12" | Goalie, Junior, Youth | Foam lined, anatomically shaped with special shin and ankle protection, Two adjustable Velcro straps | $$ |
| CranBarry Moldable | Full Shin, Ankle, Calves | S-11", M-11.5", L-12" | Center, Wings, Defensemen, Goalie | Foam liner molds to your leg, Comes with mesh carry bag | $$ |
| TK Synergy 1 Plus | Full Shin | S-11'', M-12'', L-13'' | Center, Defensemen, Wings | Lightweight shin guards with air flow vents on the sides that allow your legs to breathe, removable inner that is machine washable | $$ |
| Harrow Probot | Full Shin | S, M, L | Center, Defensemen, Wings | Ventilated hard plastic shell with a removable, washable liner | $$ |
| STX Reversible Shin Shield | Shin guard | Youth, Adult | Goalie, Center, Junior, Youth | Ergonomic shape, Foam contours for comfortable protection and a performance fabric that wicks away sweat and dries quickly | $$ |
| Brine Cempa | Full Shin and Ankle | S, M, L | Advance, Elite, Goalie, Center, Wings | Anatomically correct design form-fits to your shins and ankles | $$ |
Field hockey shin guards are the second most important piece of protective equipment you need, right behind your stick of course.
Have you ever been smacked in the shin with a hard, blunt object? It freaking hurts!
Look:
We recommend investing in the best protective pieces from top brands like Grays, STX, Protec, Adidas and Harrow to help keep your legs safe.
We understand you may have questions about buying the right piece and wanting the cheapest price possible. Below we answer these top questions from our readers and giving you our top recommendations and also the best place to buy them!
Can I Wear Soccer Shin Guards for Field Hockey?
Although you can legally use similar soccer gear in a field hockey game, we do NOT recommend this. Let us explain the difference between field hockey and soccer protective pieces. The main difference is the padding which is thicker and more protective because of the impact possibility of the smaller ball. Soccer pieces are usually lighter, and aren't made with a strong plastic. Due to the stronger plastic, the recommended gear we have also molds around your leg better for that full leg protection you want.
Fitting, Sizing, and Wearing your Protection Gear
As mentioned before the protective gear is designed with hard plastic on the outside to protect and keep you safe, and soft foam padding on the inside to keep you comfortable. You will not find any straps or velcro, because the piece should mold tightly on your leg. To properly wear your gear for maximum injury prevention, follow these steps:
Put on a thin pair of socks, or field hockey rash guards that covers your leg if you prefer
Open up your  shin guards and place onto your lower leg. Strap if necessary.
Put on your  shin guard socks on the outside. NOT inside!
Put on your field hockey shoes or cleats.
Make any last adjustments for comfort, then go out and play.
How to Measure your Shin Guard?
Take a look at the sizing chart picture to the right side of this paragraph. The key steps are below:
Get a measuring tape.
Place one end of the tap in the middle of your knee cap.
Extend the measuring tape to your ankle and then record the total length in "Inches".
Match the length with the size chart.
The Best Field Hockey Shin Guards for 2020
Of all the protective gear, accessories, or supplies, this piece is always fun to shop for. Below we've listed the best field hockey shin guards for youth, girls, and guys. Of course, you can find the best clearance or discount price at Amazon.
Price: $$
Sizing: All Sizes
Protection: Full Protection Below the Knee
1. CranBarry Shin Guards for Adults!  
Designed specifically for those junior and youth players, the CranBarry guard are perfect for toddlers or kids. Just like with the elite ones, these youth version pieces for kids possess a hard plastic exterior. The heavy foam construction provides soft comfort on the inside to fit your leg nicely. As an added bonus it comes with protective ankle caps to save you from those low stick checks. The last, but not least, benefit is these don't require replacement socks.
2. Adidas Protective Gear
These are one of the more expensive pieces. Adidas, who started as a top soccer brand, did an excellent job constructing these Adidas field hockey versions. One of the hardest shields you can get on the market, these pads come with a removable interior lining for washing and cleaning. The top of the line TUV certified foam fit ensures maximum comfort along with anti-bacterial and anti-odor materials.
3. Harrow Protect
Both your left and legs are going to love these Harrow protectors. The Protect series features a super hard and durable plastic exterior to withstand nasty stick checks and hard shots. Although strong and protective, the shell is super lightweight and won't weigh you down during practice game-time. The interior features an awesome moldable foam padding for superb comfort and maneuverability.
4. Grays G800 Protectors
Buy Grays G800 on Amazon!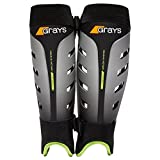 Players from the world in the United States, Australia, India, or Australia love these Grays pieces. Just like the Harrow pieces above, the G700 pads are foam-lined to give you a super comfortable fit. Our favorite part about these Grays pads is they are anatomically shaped to mold to your ankle and shin perfectly. The hard plastic outer shell is definitely going to keep you safe and protected from nasty slashes. This protective piece comes with Velcro straps. All sizes are available for these protective pieces including -xs, small, medium, large, and xl.
5. CranBarry Moldable Pads
Buy the CranBarry Pads on Amazon!
These CranBarry pads are specially designed to mold to your legs and ankles while wearing them. Protecting your shins, ankles, and calves is the hard plastic outer shell made of top notch plastic. The inner liner is composed of a soft liner to ensure these fit your leg perfectly. You'll love how the foam magically shapes to your leg after wearing them. These are one of top protective pieces you need in 2018.
6. TK Synergy Plastic Guard
Buy The TK Synergy Guard on Amazon!
Let's not forget about TK protective guars, as TK always designs some of the top products out there. Just like the CranBarry and Harrow field hockey shin guards, the TK pads have a hard plastic outer shell to ensure you're sufficiently protected. An added bonus on these shin pads are vents on the sides to allow proper breathing and air flow to your legs so you won't overheat during the game! The straps are easy to use and fit well!
7. Harrow Probot Pads!
Buy The Harrow Probot Pads on Amazon!
Maximum Protection is the name of the game for these Harrow protective pieces. The Probot series is designed for those intermediate, advanced and elite players who need a strong and sturdy outer shell to fight off nasty stick checks. We love the removable liner so you can easily clean and wash them, so they won't be stinking up your gear bags. The removable straps are great too in case you don't want to use them. Great piece of gear here!
8. STX Reversible Pads
Buy STX Reversible Shin Shield on Amazon! 
If you're looking the best STX shin guards, these are definitely up there. The STX Contour has a patented design to allow reversible ways to wear these bad boys. So once you buy your team colors, you now have a home and away color options! The ergonomic shape quickly fits and forms onto your leg, making an super comfortable fit. The open holes creates awesome circulation so you won't sweat too much. Very lightweight fabric wicks away sweat too! Currently only available in youth size!
9. Brine Shin Guards Cempa
Buy the Brine Cempa Shin Guards!
Of all the Brine field hockey shin guards, these Brine Cempa's are definitely the best. Not the cheapest piece out there, but these puppies are designed for advanced and elite players. The super-lightweight design lets you easily maneuver while running around, and the hard plastic shell gives you top-of-the-line protection. The antimicrobial foam liner allows more comfortable protection, with a lightweight finish. Designed with the player in mind, the anatomically correct design is form-fitting to your ankles and shins.
Field Hockey Shin Guard Socks, Rash Guards, and Accessories
Don't forget these essential accessories like shin guard socks and rash guards. After scooping these up, you'll have crossed everything off your equipment list in the leg department!
STX Shin Socks
In official  games you wear should socks over your shin guards. Rocking these socks keeps your protective pieces in place while moving around. These STX socks are made of a super lightweight and breathable material. They should fit perfectly on all types of guards you can wear. Available in team colors (red, blue, pink, yellow, black ,white, orange, green) and all size fits all socks, 13.5 inches.
CranBarry Rash Guards
Buy the CranBarry Rash Guards!
When running around in practice or games, you'll notice your guard can get itchy or rashy depending on which piece you have. Well these rash guards are designed to keep you cool and comfortable while wearing your protective pieces. They are super lightweight, breathable, and made of sweat-wicking compression sleeves. No more irritation or rashes from your sweat and dirt. These are one size fits all. Scoop them up today from Amazon!
Foot Sleeves Athletic Compression Socks
Check Out These Foot Sleeves on Amazon!
Many  players prefer to wear some form of socks underneath their guards. These compression socks are perfect for you. The graduated compression ensure maximum blood flow. This leads to faster muscle recovery and relieves discomfort. If you face plantar-fasciitis or other related injuries, these are just what you need for arch support. The sweat-wicking material makes it super easy to clean and throw right into the washer!
https://www.fieldhockeyreview.com/best-shin-guards-for-sale/
Best Shin Guards Buying & Sizing Guide
https://www.fieldhockeyreview.com/wp-content/uploads/2015/05/Field-Hockey-Shin-Guards.jpg
https://www.fieldhockeyreview.com/wp-content/uploads/2015/05/Field-Hockey-Shin-Guards-150x150.jpg
Shin Guards
Comparison of the Best Field Hockey Shin Guards Field hockey shin guards are the second most important piece of protective equipment you need, right behind your stick of course. Have you ever been smacked in the shin with a hard, blunt object? It freaking hurts! Look: We recommend investing in the best protective...
Field Hockey
Field Hockey
andywu217@gmail.com
Administrator
Field Hockey Reviews