Best Field Hockey Goalie Equipment Reviews Guide
I hope you love our product recommendations! Just so you know, fieldhockeyreview may collect compensation and commission from the links on this page! If there is anything we can improve, please let us know!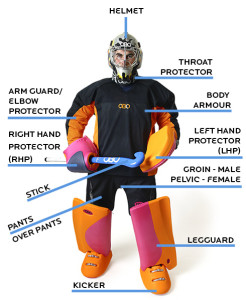 You just came across the best review guide in 2020 for choosing your next equipment as the protector of the goal! Here, you'll find advice and reviews to the best goalie sticks, helmets, gloves, jerseys, pants, and other pads!
Here's the thing:
Being the goalkeeper is tough work. It's one of the most important positions in the game. So we put together this complete buying guide to help show you the best sticks, helmets, pants, and other gear to keep you protected come game-time!
In addition, we'll be answering top questions about the gear in this position of the game. So raise your field hockey sticks, because this buying guide is for you goalies!
Here's a quick informational video on gearing up the proper way…
The Best Field Hockey Goalie Equipment & Gear
Price: $200-$1000
Specs: Full complete Set
There is a lot of equipment needed to play the position. Below, we list the tips and tricks needed to get the best goalie gear out there and included links to the right place to purchase them. Throughout these gear reviews, we will feature top brand styles like STX Anchor, TK Synergy, and OBO Robo and Cloud!

Complete Starter Package Set
Unfortunately, this is no longer available
We understand that goalkeeper gear can be very expensive and cost anywhere from $500 to even $1000 to outfit an entire goalkeeper….which leaves many players buying used equipment. Slazenger field hockey is one company that provides a full field hockey goalie set at a very cheap price and gives you the basics. It comes complete with everything except the helmet or sticks to make great gifts. In addition, Malik provides a full field hockey goalie kit package that does include the stick…just no helmet. These full goalkeeper package sets are an excellent value to get the gear you need for cheap!
Best Goalie Sticks
Typically, field hockey goalie sticks can be either indoor or outdoor. Either way, you want a light and lean stick to easily make those high saves. The stick length isn't very important here. Checkout our goalie stick reviews below. If your looking for sticks in other positions check them out on our other guides.
Price: $$
Specs: Lightweight, kinked shaft, indoor stick works
STX Shield Stick
Check Out STX Shield Goalie Stick Today!

The STX Shield is one of the best goalkeeper sticks for youth, advanced and elite players. Made from 100% fiberglass, this STX field hockey goalie stick is super lightweight to help make those high shot saves you've been training for in practice. Bow isn't very important with these type of sticks, as this one comes with standard 2mm bow length.
Grays GR 5000 Stick
Looking at the Grays GR5000, this is also one of the best goalkeeper sticks of all time. Ideally, you want a longer hook length out of your stick, and the GR5000 delivers. This goalie stick is fully legal and follows all NFHS and NCAA rules. Super lightweight and the color you're looking for, this is a perfect addition to your goalkeeper equipment list.
Best Goalie Helmets
Price: $$$
Specs: Higher prices equal more protection
Probably the most important feature of your new goalkeeper helmet is visibility. You need to easily see the ball on the field at all times. Also, you'll want to make sure your cage is fully protective. You'll find with pricing that's higher, the more protective helmet and face mask you can get. Check out our equipment reviews below to find out the best helmet for you!
OBO Robo PE Helmet
We recommend the OBO Robo field hockey goalie helmet as more expensive option. This is a full coverage helmet made of a lightweight, yet strong plastic to protect from high shots. You'll love the vented shell cover to keep you cool and from overheating. This goalkeeper helmet comes in small and medium sizes. A chrome colored field hockey mask cage looks great during game time!

Mylec Ultra Pro II Mask

For players of all levels, this goalkeeper mask is the best out there. Composed of super durable plastic that is lightweight, you won't even feel this on your head. The angular shape keeps the mask highly visible, especially when deflecting or rebounding shots. A fully adjustable back plate fits all head sizes. Additionally, the closed off cell foam liner gives you maximum comfort and protection.

Shock Doctor Ultra Neck Guard
Buy the Shock Doctor Neck Guard
According to the FIH rules, goalkeeper neck and throat guards are completely mandatory at all ages, from juniors to intermediate players. This piece of padding is specially designed to protect your throat and neck area from high shots. You can buy a regular sized neck protector or a highly padded one. We recommend this Shock doctor neck protector with its foam padding, hard plastic interior, and adjustable straps on the back.
Top Goalie Chest Protectors
Price: $$$
Specs: Higher prices equal more padding
At all age levels, whether beginner or intermediate, you will need a chest guard. Most chest pads tend to cover your chest area, shoulders, stomach, abs, and sides. In addition, there are full body chest protectors that come with elbow guards and extend into the forearm area!
OBO CLOUD Full Body Chest Armour
Buy The OBO Chest Protector on Amazon
This OBO chest protector is truly one of a kind (looks like military armor). When wearing it, you'll feel like Superman with the 38 pieces of foam used to construct this apparel. But don't worry, you won't sacrifice flexibility with this amount of protective armour. If you want to separate the chest guard and the  goalie elbow pads, this is easily doable. The sizing for this come in youth or small, and an adult or medium size.
OBO Youth Yahoo Chest Protector
Another fan favorite from OBO, this full sized goalkeeper equipment is perfect for youth players looking for full body protection. Designed with full comfort and protection in mind, these dense foam pads are designed to deflect and rebound balls while playing the goalie position, while keep your kids safe on the field. Meant to be worn right under your custom team jerseys.

Best Custom Jerseys
Check Out These Jerseys on Amazon
As a goalkeeper, your team jersey is an important piece of apparel to boost your swagger. By rocking a cool custom jersey, you are showing everyone on the field and in the stands that you know how to play goalkeeper the right way. Traditionally, CranBarry comes out with cool mesh designed uniforms to help you teach those forwards a lesson while you punt their shot out of the wing while making a save…and keeping your coaches happy.
Best Goalie Pants Girdles
Price: $$$
Specs: Higher prices equal more padding
A very important piece of goalkeeper equipment are your goalkeeping girdles. These are specially designed pieces of gear to cover your front or pelvic area, groin areas, and tailbone. In addition, you can wear pants or shorts over your leg protection girdles. Lastly, you'll want a goalie pelvic protector, which sometimes comes separately.

OBO YAHOO Goalie Girdle Bored Shorts
Check Out OBO Hockey Girdle on Amazon
These OBO goalkeeper pants are specially designed to protect your upper legs and inner thigh. The dual density foam is made to be more dense and protective against groin shots. The outer foam is made to more protective and harder, and the inner thigh foam softer and more comfortable. The goalkeeper pelvic protector is sold separately on this set or kit. Great for kids, high school players or adults.
OBO Cloud Hotpants!

If you need a set of field hockey goalie pants/girdles that come with a pelvic protector, these Grays ones are for you. Fitting on this piece of field hockey goalie equipment, you'll love these pants as they provide awesome padding in all areas. Designed with high-quality foam padding throughout, and a strong and sturdy pelvic protector. Laces and string tie-ups fit all weight, height and age levels.
OBO Cloud Goalkeeper Pelvic Protector
Buy The OBO Pelvic Protection on Amazon
In addition to your girdle pants, the top accessories you will need is a womens goalkeeper pelvic protector. These are specially designed to fit over your female anatomy to protect from high shots. They easily fit over and of your other field hockey goalie gear and pants. All brands offer these, from Grays to Dita….but recommend this OBO field hockey pelvic protector from Amazon.
Best Goalie Kickers & Boots
Price: $$$
Specs: Higher prices equal more padding
Field hockey goalkeeper kickers are very important for goalkeeping those lower shots. They are comprised of dense foam that's bouncy, to rebound shots out of bounds and away from the goal. Additionally, goalie boots are designed for the same purpose and are designed with heavy-duty, protective foam! Other positions require protective shin guards as well!

OBO Goalie Leg Guards
Buy Obo Cloud Goalie Leg Guards!
These high-quality OBO goalkeeper leg guards are designed specially designed with lightweight Hi Def Polymer to decrease the spin on the ball when making rebounds or saves. Coming in a very cool color, and elite, advanced or youth player will love these. Also, these goalkeeper leg pads come with adjustable straps to keep tight on your shins, knees and ankles!
You'll definitely want to add these STX Anchor boots to your goalie equipment list! These are constructed with Hi Def Polymer, a very dense and strong foam, to keep you protected and ensure you make those necessary rebounds and saves. Come with durable adjustable straps to keep them in place and comfortable on your foot. Designed to be worn over your field hockey shoes or footwear.
Obo Field Hockey Leg Guard
Buy The OBO OGO Goalie Leg Guards!
These are perfect and light for youth field hockey goalies. They have a lighter foam base but provides adequate protection for most players in this league. I would not use these items for players in high school or middle school as it might not provide adequate protection.
Top Goalie Gloves for Sale
Price: $$$
Specs: Left hand protector, right hand holds stick
Now pay attention here as we talk about gloves for goalies (other positions should look at these gloves). The field hockey gloves for goalkeepers are different than the rest of the players. For starters, you have a left handed glove designed with a rectangle surface to deflect high shots. On the right hand, you have a custom designed glove to hold your stick while keeping you safe.
STX Anchor Gloves
Check Out The STX Anchor Gloves
Another excellent piece of goalkeeper equipment from STX, you'll love these goalie gloves. Designed with Hi Def Polymer padding, you will be fully protected from all shots and rebounds. These hand protectors for goalies are super comfortable and have an excellent ergonomic grip. They come with great laces to keep your hands and fingers tight and in place during game time.

 Goalie Bags

Buy The OBO Wheelie Goalie Bag
With all of this goalkeeper equipment, you're going to need a strong, sturdy, and large bag with wheels! Designed to fit all of your goalkeeper gear, from sticks to helmets to gloves you'll love this bag. The unique design is awesome, and makes it easy to roll it while using the handle. External compartments to easily hold mouth guards, balls and other gear!
Final Thoughts on Choosing Your Goalie Equipment
It can be tough to find cheap goalkeeper equipment for sale. If you can afford it, buy the best field hockey goalie equipment, from sticks to helmets. This will ensure the maximum protection from the gear that you buy to prevent any injuries. Don't skip any pieces of equipment as you have some of the most potentials for injury without this protective equipment. Otherwise used field hockey goalie gear works great….just may be smelly! With used products, ensure to look through the wear and tear on the straps of various pieces of equipment. In addition, looks for rips in the foam padding of the different pieces of your gear. If you see rips and tears in the paddings the equipment might not give you the uniform protection it was designed to give you. In addition, always check that the size fits well by playing or moving around in the gear and while testing blocks! We hope these product reviews help you determine the best gear for your new adventure.
https://www.fieldhockeyreview.com/best-goalie-equipment-guide/
Best Goalie Equipment Buying Guide
https://www.fieldhockeyreview.com/wp-content/uploads/2015/05/Field-Hockey-Goalie-Equipment-Guide.jpg
https://www.fieldhockeyreview.com/wp-content/uploads/2015/05/Field-Hockey-Goalie-Equipment-Guide-150x150.jpg
Goalies
You just came across the best review guide in 2020 for choosing your next equipment as the protector of the goal! Here, you'll find advice and reviews to the best goalie sticks, helmets, gloves, jerseys, pants, and other pads! Here's the thing: Being the goalkeeper is tough work. It's one of...
Field Hockey
Field Hockey
andywu217@gmail.com
Administrator
Field Hockey Reviews