I hope you love our product recommendations! Just so you know, fieldhockeyreview may collect compensation and commission from the links on this page! If there is anything we can improve, please let us know!
Last Updated on March 27, 2022 by Field Hockey
Comparison Table
| Name of Item | Clear Lens/Wire Frame | Recommended for | Materials | Additional Features | Price |
| --- | --- | --- | --- | --- | --- |
| Bangerz HS-3000 Shatter-Proof | Clear Lens Goggles | Women, Youth | High-impact, one-piece shatterproof polycarbonate lens, Coated for anti-fog and anti-scratch resistance | Curved shield design for maximum peripheral and excellent down vision. Shock-absorbent brow bridge with padded nosepiece protector. | $$ |
| STX Lacrosse Focus S | Wire Frame Goggles | Juniors, Intermediate | Silicone padding | Comes with a unique low profile frame design with an oval wire configuration.  | $$ |
| GRAYS Hockey Facemask | Face Mask | Women, Youth, Defensive | With fully adjustable straps and padded | comes attached with fully adjustable straps and padded inserts to give you added comfort and absorbs impact.  | $$ |
| Grays G600 Helmet | Face Mask | Men, Women, Senior | Full adjustable straps, great for corner kicks | good foam padding on the inside of the mask | $$$ |
| OBO ROBO Carbon | Face Mask | Goalie, Women, Youth, Defensive, Intermediate | Plastic Shell with High Density Foam Liner | Plastic Shell with High Density Foam Liner, This mask allows the goalie to be protected without compromising vision, as its high visibility mask gives the goalie plenty of space to see the game in front of them. | $$$ |
| STX 2See | Wire Frame Goggles | Women, Youth | Tru-Vu vision system, Cat-eye style wire | Silver frame, Vista SI | $$ |
| STX 4 Sight Plus | Wire Frame Goggles | Women, Youth | STX 4Sight+ Lacrosse Goggles, Silicone backing, Enhanced visibility and great comfort level, Matte-finish wire | Form-featured contoured silicone molds to the face for maximum comfort, fit and cleaning ease. Anti-microbial agent to minimize breakouts due to perspiration | $$ |
| Under Armour Charge 2 | Wire Frame Goggles | Juniors, Intermediate, Women | Sleek, lightweight wire frame, The UA® Illusion Lacrosse Goggles | Made of strong plastic and a durable metal visor ensures the field hockey goalie won't get any head injuries! | $$ |
| | | | | | |
Do you have to wear eye protection on the field? In short, yes.
Is it right to force high school players to wear eye protection? We're not sure. But that's not why we're here. The truth is, you need eye protection in order to step foot on the field, so we're here to show you the best ones!
Listen up:
Keeping your head protected is essential in this sport if you want to stay safe. Whether you need goggles, a mask, or a helmet we've got you covered. Top brands like Bangerz, STX, DeBeer and Harrow have developed the best eye protection and eyewear to keep you safe on the field.
And we're here to help answer the top questions you have about the sports legal eye protection, and more importantly, show you the best, yet the cheapest, place to buy them!
Official Goggle Rules
A quick history of field hockey goggles rules in the USA: In 2011, the NFHS instated rules and regulations to enforce eye protection be used during field hockey games. They teamed up with the American Society for Testing and Materials to setup ASTM F2713-09. This is a fancy way of saying field hockey goggles must be certified to protect your eyes, and ASTM approves them. Here are 3 things you must know about these rules:
Goggles are ONLY needed in youth and high school play.
BOTH Polycarbonate field hockey lens style and a wireframe style are allowed.
Field hockey goggles are NOT allowed in NCAA, tournament or international play (such as Olympics)
Field Hockey Vs Lacrosse Goggles
Many people ask if they can use lacrosse goggles for field hockey games. In short, yes. Some high school players will use some STX or Brine lacrosse gear instead of eye protection made specifically for the sport. If you prefer to wear metal wire style eye protection, then this is fine. But some players prefer to wear polycarbonate goggles from companies like Bangerz.
Buying Clear Lens Vs Wire Frame
Players have a preference between metal or plastic eye protection. Both are legal, but both have different qualities. Although the metal designed eye protectiontend to be more protective, the metal has been known to cause stitches and obstruct peripheral views. Personally, we recommend you invest in a pair of polycarbonate or plastic goggles with clear lenses. We strongly recommend clear frames.
Full List of the Best Field Hockey Goggles for Sale
Price: $$
Legal: Yes
Sizing: One Size Fits All
How much does eye protection really cost, and where can I buy the right eye protection are the two most common questions we get here at Field Hockey Review. See the detailed list of eyewear below to find the best value at the best price. All of the gear listed below fit all NFHS and PIAA rules and regulations. Also, they are all adjustable and one size fits all all head sizes and ages.
1. STX 4 Sight Plus Eye Protector
These STX eye protectors are definitely a top seller. They come with an oval shaped frame that features protective metal wires across the face to enhance vision and reduce impact. A minimalist design keeps them low profile so you can easily see in all directions. The face side cage frame, made of silicone, easily molds and fits onto your face for top comfort and fit. Super easy to clean!
2. Bangerz HS-3000 Shatter Proof Clear Lens
These Bangers eye protectors are the best poly-carbonate plastic pieces you can get. If you prefer eye protection with a clear lens, these are definitely worth considering. There will be no fogging up whether using these as outdoor or indoor goggles! These come with an adjustable strap headband and are totally machine washable. Also included is a carrying pouch and a goggles cleaner. Meets all USRA, ASTM and NFHS standards. The best Bangerz eye protectors out there!
3. STX 2See Goggle
Buy The STX 2See Goggle on Amazon
These are our favorite STX eye protection equipment in the game. They fully meet all ASTM standards and are legal for NFHS high school play. These are also perfect for youth player level goggles! The Tru-Vu vision is specially designed to reduce or eliminate all glare in your line of sight. Coming stock with a silver metal frame, they will protect you from any incoming balls or sticks to your eyes. Comes with new glasses straps. You can easily wear these eye protection gears over your glasses.
4. STX Lacrosse Focus-S Goggle
Buy STX Lacrosse Focus-S Rookie!
This STX eye gear are excellent for juniors and intermediate players. They come with a unique low profile frame design with an oval wire configuration. You'll notice the advanced visibility and strength from many of these STX eye protection gears. You'll also love the comfort and fit these provide because of the silicone padding which doesn't absorb sweat or moisture, making them easy to clean. These NFHS approved eye protectors meet all ASTM requirements for womens and girls level of play.
5. Under Armour Charge 2 Lacrosse Eye Protectors
Protect yourself with the UA Charge 2 lacrosse eye mask from Under Armour. The Charge eyemask is designed to help eliminate the common treats of fogging, rain beading, scratching, distortion, and air flow problems that can occur during women's lacrosse games. There will be no fogging or scratching with these as they are durable wire padding. These Charge eye protectors meet all ASTM and NFHS rules for intermediate and youth level of play.
Field Hockey Masks and Helmets
During a faceoff, players in the defensive zone need to wear a mask to protect their heads from the ball striking them. They do not need to wear them all game. Just for faceoffs!
You also have goalie helmets for goalkeepers. These are specifically designed helmets for goalies and are similar to a street hockey helmet. Made of strong plastic and a durable metal visor ensures the goalie won't get any head injuries!
1.
GRAYS Hockey Facemask
Of all the faceoff field hockey face masks out there we definitely recommend the standard Grays Face mask. This is perfect for outdoor or indoor eye protection usage. The faceoff mask differs from goggles because it covers your upper chin, temple, forehead, and face. It also comes attached with fully adjustable straps and padded inserts to give you added comfort and absorbs impact. One of the best face-off gears out there!
2. Grays G600 International Goalie Helmet (Our Pick)
When looking at helmets for goalies, there are tons of options. We recommend the Grays G600 goalkeeper helmet. Also called a full mask, this is a full-coverage helmet made of a lightweight, yet strong plastic to protect from high shots. You'll love the vented shell cover to keep you cool and from overheating. This a one size fits all helmet that comes with an adjustable backplate. A chrome-colored mask cage looks great during game!
3. OBO ROBO Carbon
Buy The OBO ROBO Carbon Goalie Helmet
This is the high end of high ends when it comes to goalie helmets! If you play all the time and in college or high school team, this is the right fit for you! All the materials are high quality and built to protect you outdoors and indoors!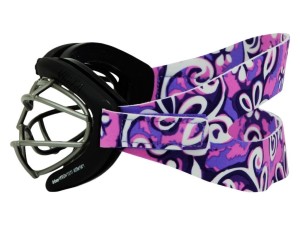 4. Lokosphere Women's Straps
Check out the LokoSphere Straps
Some players prefer to use custom goggle straps. With the Lokosphere accessories strap, you get to customize your eye protection with cool colors, designs, and patterns. Made of neoprense, these are made to be super comfortable on the back of your head while being form fitting. These are one size fits all straps, comes with a ponytail portal to put your hair through, and has adjustable Velcro closures which are easily removable.
All in all, pick some the right glasses, masks, or helmets that fit your needs. Make sure you test all of your equipment before taking them out to play in a game!