I hope you love our product recommendations! Just so you know, fieldhockeyreview may collect compensation and commission from the links on this page! If there is anything we can improve, please let us know!
Last Updated on March 27, 2022 by Field Hockey
Finding the right field hockey stick can completely change your game. A well made, comfortable stick that fits with your style of playing and grip can make the difference between a frustrating battle on the field and a great match.
Choosing the right stick for your level and position can be tricky though. There are thousands of different types out there made from fiberglass or wood and it is hard to know what stick will fit you the best.
We've looked at one of the best brands on the market – Mercian – and put together all the information you need to know to make the best choice. So whether you're a goalkeeper, forward or fullback read on to find out everything you need to know before investing in your next stick.
New to finding a stick? Check out our field hockey stick buyer guide!
What positions are Mercian field hockey sticks good for?
So many people know of Mercian despite their quiet marketing. They don't shout about their sticks but they don't need to – they do the talking for themselves! They claim to be some of the lightest on the market which makes them perfect for forwards and the absolute rigidity of the carefully crafted stick means a goalie will be equally as impressed with the stopping power.
You should look at your height as well as your playing position when choosing a stick as this can affect the size and model you go for. There are four styles of "toe" (the bottom of the stick) for different playing positions. A shorti is best for a forward, a midi is generally the best for beginners as it helps you learn, a maxi is the defender's preferred choice and the hook style can be chosen by goalkeepers as it has the largest surface area.
What is unique about Mercian field hockey sticks?
This is a company that has been running more than 40 years and has more experience and knowledge than a lot of other manufacturers on the market. That amount of background and passion shouldn't be taken lightly and it is one of the things that makes this company stand out. They don't do other sports, they don't split their time with other games or industries, it is all hockey all the time for the good folks at Mercian.
Many people don't realize that Mercian actually use basalt in some of their models during the manufacture. This added toughness just gives your stick added power for those killer drives! But basalt is also super lightweight so while you get all the power, you don't add any pounds to the stick overall.
Mercian also uses Kevlar – the ultra tough stuff usually found in body armor or protective clothing – in its hockey sticks. This clever addition means that your hockey stick is tough and durable without losing its flexibility.
The company also sticks to a fairly simple shaft bow options. Compared to some other manufacturers, who have as many as 10 different options for curves, Mercian keeps things simple and efficient. By concentrating on just two types, this means they can get it absolutely perfect rather than splitting themselves across lots of different styles and designs.
In the company's mission statement, they openly admit they eat, sleep and breathe hockey. And as a player, it is that level of dedication you want to see to getting your stick perfect.
Different types of sticks for different levels of play
There are four different levels of player – elite, advanced, intermediate and beginner. They are all pretty self explanatory but a beginner is just that, someone who is just starting out into the world of hockey and needs a stick just to get to grips with the game. A durable, inexpensive design would be best so they can bash it up without fear!
The intermediate sticks offer more power while still making sure they have extra grip to give you more control as you develop your game. The advanced sticks are balanced between giving you a sturdy design that can power through drives and ball control. Elite sticks are for people at the top of their game and require skill to use as they are the most powerful but require the best concentration to use.
Intermediate players should look for a stick that balances power and precision. You still want the safety net of added control over the ball but you can afford to invest in a stick with more power as your developed skills will mean you are able to control the ball easier.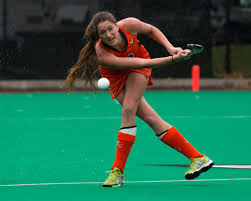 Top 4 Mercian field hockey sticks
Mercian Barracude Midi Field Hockey Stick

The aptly named "Rebel" range is home to the Barracuda. Names after the fearsome fish of the Caribbean, this striking stick is perfect for beginners. The whole Rebel range is aimed at hockey newbies or for use in educational settings as they are easy to use and comfortable.
It is designed for play on hard courts as well as grass or Astroturf and is made from solid polypropylene which keeps it hardwearing and durable even when used on these tough surfaces. Even though it is designed for beginners, it is still the proper field hockey shape and has a midi shape. The tough plastic construction means it is softer than an ordinary composite stick which helps protect the joints from undergoing too much stress.
Comparison
Bend: Low
Weight: Heavy
Material: Polypropylene
Mercian Maestro Field Hockey Stick
This starter level stick is perfect for practice and getting to grips with the basics of field hockey. They come in a brilliant blue and yellow design and are perfect for schoolkids or anyone who just wants to give hockey a go but doesn't want to pay out for an expensive stick first thing. It has a range of sizes for all playing positions and the stick features a solid mulberry head with a reinforcing shaft for extra durability and strength.
Comparison
Bend: Low
Weight: Heavy
Material: Wood
Mercian Scorpion FGB Field Hockey Stick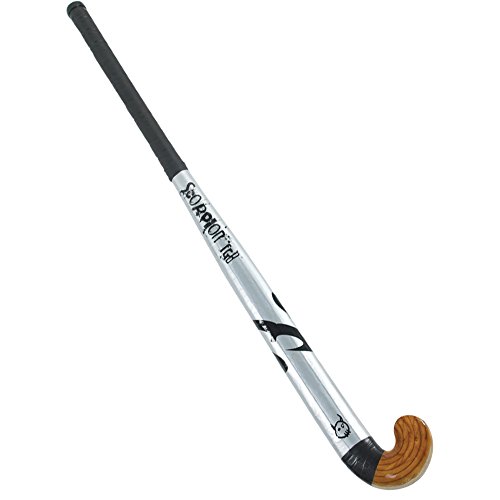 This traditional wooden stick is wrapped in fiberglass and then has a polyurethane grip. The stick itself is durable and can be played on hard surfaces as well as grass or Astroturf. Marketed at beginners, the scorpion is the next model up from the Maestro offering a more professional feel while also being at the basic level.
Comparison
Bend: Low
Weight: Heavy
Material: Fiberglass and wood
Mercian 100 Series 104 Field Hockey Stick
Currently not in stock on Amazon but a stick great for intermediate players.
The 100 series has a lighter weight overall and is a perfect range for the intermediate player. The striking neon orange, silver and white design has a high gloss back with a matt face which is as hardwearing as it is cool. It has a fiberglass inner skeleton which is layered over with carbon and Kevlar to create 5 different stick specifications – 101, 102, 103, 104 and 105.
A clever piece of design means this stick has a textured face which imitates the feel and look of a raw wooden stick which helps to reduce the ball spin on a water based pitch. In short, this is a great all rounder for an intermediate level player who wants a well designed stick that can handle almost anything thrown at it.
Comparison                                                                           
Bend: Low
Weight: Light
Material: Carbon 55%, 35% fiberglass and 10% Kevlar